I have been reorganizing the studio lately with the help of some steel shelves to expand a place to dry work in progress.  While going through stacks – and bins and ziploc bags of paper, cards, mail art, old greeting cards…well you get the idea…
I found a card from one of my best and oldest friends that she sent on my birthday last year.  It's so funny and so perfect for the two of us I didn't want to get rid of it, so I used it in my journal as a way to keep it forever(card was a recycled greeting designer acknowledged at the bottom of the page).  That led to looking through some more mail art envelopes and finding a bunch of great stamps that I added to the page and using a new stencil from Julie Balzer I made some tabs and a photo strip layout of printed papers and words and numbers thinking of Carolyn Dube's Use Your Words***go see the launch of her new Gelli Printing Workshop***.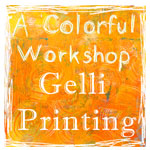 Speaking of workshops, the classes are up at Lucky Star and the full descriptions will be available some time this week.  Registration starts Friday March 1st, so head on over and see my class line-up and the other wonderful instructors that will be there.